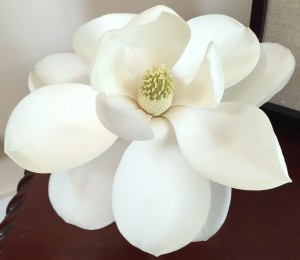 My gaze has tilted upwards more than usual lately. I am newly in awe of the majestic magnolia. Mine is the large, white dinner-plate variety that smells so citrusy-sweet for just the day that the bloom finally opens. The Southern Magnolia ironically is here in my Pacific Northwest back yard—magnolia grandiflora—aptly named as it is, indeed, grand. After looking at the flower's closed conical shape for days, wondering if those vertical wraps would actually unfurl, suddenly there is one, maybe two, possibly three blooms dotting my large magnolia tree.
I have waited weeks for a whopping five to bloom all at once. Perhaps the singular individuality that this magnolia exhibits is akin to our own ability to shine. We choose when and where, often on a limb by ourselves. If we're lucky, we'll open to our joy and purpose in connection with others, like the five blooms opening to the sun in symphony.
When I was a child, there was a small magnolia tree in my back yard. It offered a pursuit as close to tree climbing as I could manage in Miami. My child-time magnolia was another variety, the Lily Magnolia—magnolia lilifora. Its peppery perfume perplexed me. Its small stature suited me.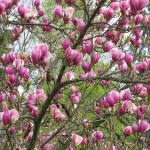 Flowers, I have discovered, are a passion of mine. Perhaps the abundance of those lavender, fuchsia and purple petals on the Lily Magnolia coaxed me into climbing a tree that I might never have otherwise?
At last, here in my yard, there was one bud on the lowest branch. I waited and watched it day after day, knowing that I might finally rise to my toes to smell its intoxicating fragrance and see all of its saucer-like creaminess. I asked the tree if it would mind. We agreed. I could take just this one bloom. I cleaned the clipper blades with alcohol, cut the stem at an angle just right and placed the magic flower in a low vase with warm water and a teaspoon of sugar. As if the flower gods gave me a break, my magnolia bloom lasted a full four days, far longer than its usual one-to-two-day brownish withering on the tree.
Upon viewing this bloom in my photo above, I am struck by how naturally nature becomes a Georgia O'Keeffe painting. O'Keeffe didn't turn flowers into paintings. She truly interpreted their essence, their soul, their being.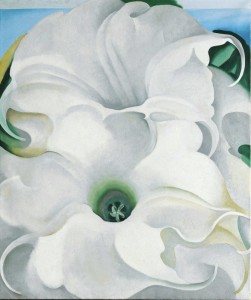 O'Keeffe (1887-1986) is perhaps best known for her visually large flower paintings, as well as contrastingly stark New Mexican landscapes. She began painting flowers in earnest in the early 1920s with Petunia, No.2, her first large-scale flower painting in 1924. Flowers, however, were subject matter for O'Keeffe for almost two decades before her larger-than-life paintings exploded. Calla lily, poppy, rose, red canna, iris, amaryllis, sunflower, Jack-in-the-pulpit, pansy, squash blossom, hollyhock…O'Keeffe did not discriminate.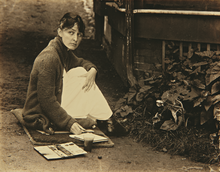 It is up to each one of us to find interpretation in art, music, life, even flowers. After years of misinterpretation of O'Keeffe's motivation behind her flower paintings, she responded in 1943: "Well – I made you take time to look at what I saw and when you took time to really notice my flowers you hung all your own associations with flowers on my flower and you write about my flowers as if I think and see what you think and see of the flower – and I don't." (Ernest W. Watson, "Georgia O'Keeffe," American Artist, June, 1943.)
My grand white magnolia reminds me of impermanence, appreciation and gratitude.
I must make time to watch for the opening of the blooms so I don't miss the beauty.
I appreciate the beauty even more because it is fleeting.
I am grateful for the silent, private moment to see this opening and, when the wind blows gently, to catch the citrus fragrance for a second as it flows down from my tall tree, that I cannot reach on my own, to meet my senses.