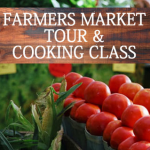 Get your baskets and appetites ready. On June 7th, Intentional Table will kick off a 10-week culinary journey with its Farmers' Market Tour & Cooking Class.
The event takes place on Saturdays, from 9.45am to 12noon, and will feature a tour of the Bainbridge Island Farmers' Market, just a short walk up Madrone Lane from the Table. Afterward, participants in the cooking class will return and work together to create a fresh brunch from their market finds.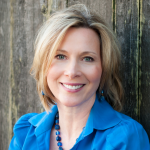 In this episode of "What's Up Bainbridge," BCB host Annie Osburn interviews Zoe Bartlett, founder of Intentional Table cooking school and specialty store on Bainbridge Island. Listen to Bartlett share her insights on building relationships with our local farmers, selecting the right vegetables and fruits of the season to suit your cooking, using lesser known varieties, choosing "whole foods" for more flavorful and healthy cuisine, and more.
Learn about Intentional Table's innovative cooking school, cooking classes, wine tastings, provisions and culinary experiences at intentionaltable.com.
Credits: Podcast host and producer: Annie Osburn; audio editor: Tim Bird; BCB What's Up music splash: Dave Bristow.