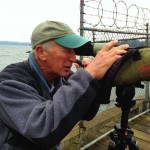 In this episode of "Bainbridge Outdoors," BCB host Annie Osburn joins Bainbridge Island avid birder George Gerdts at Fort Ward Park to talk about the fall bird migration on the island. A passionate birder since childhood, Gerdts is a virtual storehouse of knowledge when it comes to local birds, their habitat, behaviors, songs, calls, and more.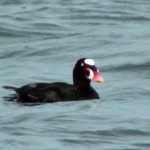 On this misty fall morning, Gerdts and Osburn meet at the southern end of Fort Ward Park, near the fish pens, to take a closer look at migrating waterfowl that have come to winter on this stretch of saltwater shoreline. Many of the birds have been absent all summer, now returning from their Arctic breeding grounds. Among the birds that can found this time of year, look for Surf Scoters, White-winged Scoters and the occasional Black Scoter, Double-crested Cormorants, California Gulls, ducks and geese, among others. The National Audubon Society has named Fort Ward Park one of seven key sites on the Kitsap Peninsula for migrating birds. Fort Ward is part of the Puget Loop section of the 3,000-mile Great Washington State Birding Trail.
Gerdts points out the obvious reasons why this spot on Bainbridge is so attractive: "The waters around Bainbridge are incredibly rich in bait fish. We're blessed with waters that have a lot of phytoplankton and some upwelling that happens, which feeds the bait fish and the birds that come to feed on those. We don't ever get freezing conditions in the water and the food supply is abundant."
Fall migration, as Gerdts notes, is a long protracted movement of waterfowl that starts around July 1st and continues as late as mid-November. Migratory patterns are complex and varied among species. Migration is not just one single event.
Gerdts leads private birding tours, as well as for the Bainbridge Island Metro Park & Recreation District. Whether you are a novice birder or a passionate hobbyist, Bainbridge Island has plenty to offer. Get out now to see what's happening with birds on the island. Gerdts' parting advice: "There are so many ways to enjoy birding. Choose one."
Credits: Podcast host and producer: Annie Osburn; field tech, audio editor and Surf Scoter photo: Tim Bird.