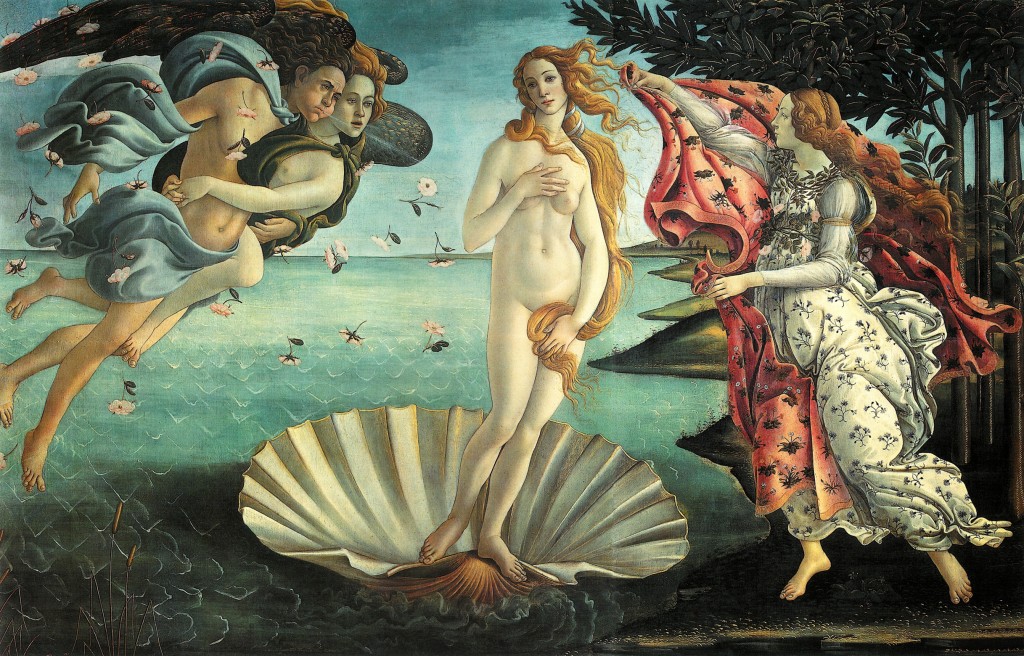 It fills an entire room. At nine feet wide, it is virtually impossible to take in without moving your head side-to-side, as if watching a tennis match. Seated on a bench in the center of the room, or standing, if you dare, the immense power and strength of the feminine spirit whispers forth from the mouth of Zephyros, held by nymph Chloris, emerging from the sea in that enormous scallop shell, enveloping you with the Renaissance beauty of Venus. You have arrived in the presence of Sandro Botticelli's The Birth of Venus (La Nascita di Venere) at the Uffizi Gallery in Florence, Italy.
Although we see this magnificent painting, or parts of it, so often reproduced on stationery, posters, cards, ash trays, and more, the real thing is a breath-taker. Painted circa 1486, its depiction of the goddess Venus inspires us to see beauty, love, rebirth and abundance.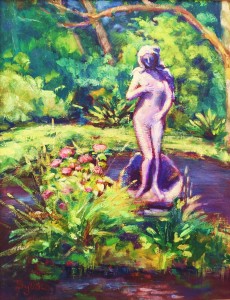 Consider the divine feminine. While the nude was a central image in much of ancient Greek art, and regained favor during the Renaissance, the feminine form through time has taken a bit of a thrashing, to say the least. Does the constant objectification of the female body that persists in Western culture affect our organic appreciation of the power of the feminine spirit?
Sifting through boxes of framed art in painter Sylvia Carlton's studio at her summer tour, I wondered why one lovely painting, Venus Rising, was priced at only $35? Painted en plein air in a local resident's garden, the image depicts a sculpture reminiscent of Botticelli's Venus. "I priced it low because some people are uncomfortable with having paintings of nudes," Carlton admitted.
She's right, of course. Amedeo Modigliani's Reclining Nude, painted by the artist in 1917-1918, goes on the auction block at Christie's in New York on November 9th with the hopes of fetching more than $100 million. Yet, the original exhibition of Modigliani's nudes in Paris was his first and only one-man show because the subject caused such a stir. Even Botticelli's Venus was considered to be "profane" material during the Renaissance. What has caused our fear of revealing the power of the feminine? Can we move from focusing on physical beauty to seeing beyond to inner spiritual beauty?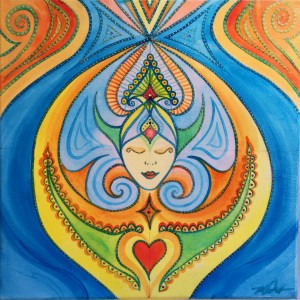 "The feminine spirit is one of magical creation. It holds such great power, strength, beauty and depth of knowing," shares artist Maggie Davenport, who began painting series of goddesses in 2002 when pregnant with her first child. "The goddesses I paint depict that through closed eyes, which represent trust in their process. When they are still and centered, a powerful magic seems to effortlessly flow and sparkle. Of course, we know that finding that place of still centeredness is usually a messy, difficult and often painful process. However, the rewards are so great and so worth it! Feminine spirit is equal parts badass and beautiful tenderness."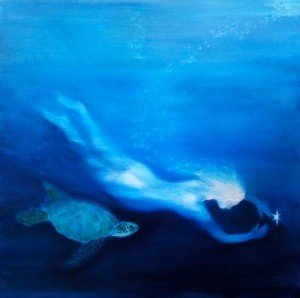 Venus reminds us to find the power of the feminine inside ourselves. Discover the role that the great Mother Earth, divine Goddess, Madonna, or pick your flavor, plays in your life. Find that spark within you and celebrate its gifts. Call forth your inner badass and tender beauty! Our power to create and extend compassion and patience are hallmarks of the feminine spirit. The birth of these qualities can occur in us at any time.