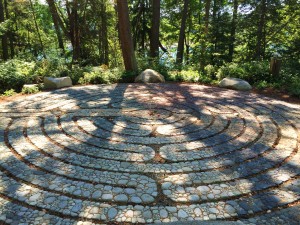 Slithering slowly across the weathered wooden plank, the banana slug left a silvery gooey trail of its successful progress. There was only an inch worth of goo. It could take hours, if not days, for this gastropod mollusk to accumulate any real distance. Often yellow, or a brownish version of yellow, "banana" slugs are plentiful in the Pacific Northwest, showing up all over the place when it's cool, rainy, damp, moist, well in general, much of the time.
Interestingly, banana slugs serve a beneficial purpose, although it can be hard to imagine since they move so slowly and seem to be going nowhere fast. They are an important part of the ecosystem, quietly devouring forest floor debris and improving the health of soil for local farmers and gardeners by excreting a nitrogen-rich fertilizer.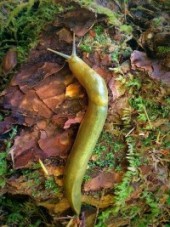 While I spend a fair amount of time side-stepping slug slime trails, or squashed slugs on the road that have met a terrible fate with a radial tire, I decided to settle in and join this one slug for as long as it took. Somewhat slower than watching paint dry, I watched the slug move. I stood. I squatted. I got a chair. The slug and I existed in suspended meditation. Simply existing, I forgot the original purpose of seeing how long it took for the slug to make tracks.
Slow movement. Fulfilled purpose, I mused. We can learn a lot from the banana slug. We are capable of accomplishing great things without always moving at breakneck speed. In other words, slow can be beautiful.
Cecile Andrews, in her book Slow is Beautiful: New Visions of Community, Leisure and Joie de Vivre, takes us on a journey with many of society's great thinkers and writers who have illuminated how slow is, indeed, not only beautiful, but essential to our survival. Andrews looks at "time-affluence vs. time-poverty" and the idea of knowing when our lives, our endeavors, even ourselves, are good enough. Let me say that last bit again: Good Enough!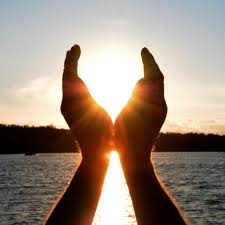 She quotes the Chinese writer Lin Yutang (1895-1976), author of the Importance of Living (published in 1937): "The capacity for reflection comes from a state of mind, made possible by the physical habit of doing nothing at certain hours of the day." Another Yutangism: "If you can spend a perfectly useless afternoon in a perfectly useless manner, you have learned how to live."
Back to the slug. An hour had passed. By most accounts, I had done not much of anything useful, except for communing with a terrestrial slug of the genus Ariolimax while it slithered ever so slowly before me. I was amazed by how quickly the hour had passed, as well as how equally enthralled I was by its passage. A sense of wholeness filled me from having done nothing, save for participating with another creature as it experienced how to live for a moment of one day. Slowly, but purposefully.
Transitioning from thinking to feeling – dropping in to hear the gentle voice that knows what we need. Be it sitting, breathing or slithering.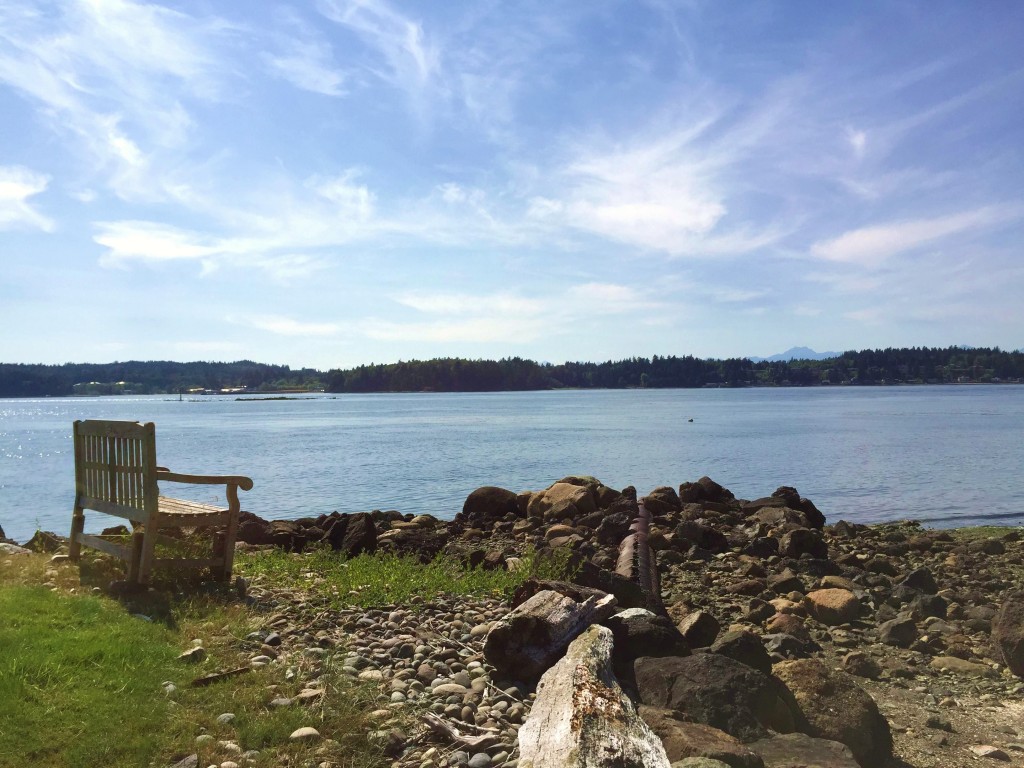 "Almost everything will work again if you unplug it for a few minutes, including you." Annie Lamott, Salon (April 10, 2015)